Treasured Secrets
by Kendall Talbot
From Romantic Book of the Year winner Kendall Talbot comes an adrenaline-fuelled new series introducing sassy sexy characters, exotic locations, and action-packed adventure.
Some secrets should remain hidden forever…
The last place Rosalina expected the clue to a 700-year-old mystery to lead her was back into the arms of Archer, the man who broke her heart. When neither can solve the puzzle without the other, they set off on a new adventure. They're forced to ignore the sparks that still fly unhindered between them as their search for the golden riches weaves from Tuscany's underbelly to Archer's luxurious yacht in the Greek Islands.
Archer desperately wants to salvage his shattered relationship with Rosalina but fighting for her love soon takes a back seat to fighting for their lives. Ruthless competition is hot on their heels and will do anything to get his hands on the treasure. With evil close on their trail, and Archer wrestling with the remnants of a childhood tragedy, Rosalina begins to wonder if some secrets were never meant to be revealed.
Goodreads
|
Amazon link
|
Amazon.com.au
|
Amazon.co. uk
|
Booktopia
|

iTunes

|
Kobo
|
Google Play
Hi Kendall! Can you tell us a little about your latest book?
Treasured Secrets is an action packed treasure hunt with a delicious romance. It weaves from Tuscany's underbelly to a glorious super-yacht cruising around the Greek Islands. Rosalina, the heroine in Treasured Secrets is a talented chef. Food, flavors and romance sustain my heroine. But with ruthless competition hot on their tail, who will do anything to get their hands on the treasure first, Rosalina begins to wonder if some secrets should never be revealed.
Recipes from "Treasured Secrets" debut in their own book too, "Rosalina's Treasured Treats" so you can cook along as you read.

What inspired you to write it?
Two things actually. A friend of mine was going out with a guy who wore an unusual necklace. Whenever she asked him about it, he refused to tell her. And he refused to take it off, even when she told him that it nearly knocked her teeth out when they had sex. Of course she became obsessed about it and eventually, after 8 months, he told her it belonged to his previous girlfriend who had died. Not long afterwards they broke up. My character in Treasured Secrets, Archer, wears an unusual gold pendant around his neck that he too refuses to talk about or take off. The story behind the necklace is central to the entire treasure hunt.
The other inspiration for the story stemmed from a trip to Tuscany. I went to a little church in Florence that was very insignificant compared to many of the other beautiful churches around it. Inside, inlaid in the mosaic floor tiles, was an oval pattern. Our tour guide told us it was the trap door where they threw the bodies during the 13th century plague that killed 50 million people in Europe. My mind went crazy thinking about entire families being wiped out by that horrible disease. Then I began to wonder what happened to the precious things they left behind.

How did you come up with the idea for the cover?
The story was born in Tuscany and much of it is set in Florence and a lovely 700 year old villa in Tuscany called Villa Pandolfini. So of course the cover just had to have a beautiful Tuscan setting.

If it was made into a movie, who would you like to play the main characters?
I would love Jennifer Lopez as the actress to play Rosalina, my beautiful Italian chef. Gerard Butler is the perfect man to play my hunky treasure hunter Archer Mahoney.

Is it part of a series or is it a stand-alone novel?
This is book one in my Treasured series. Book two Treasured Lies is out October 2015 and book three, Treasured Love, is due out April 2016.

Where is the novel set and why did you choose to set it there?
The novel has two main locations. The treasure hunt starts in Florence Italy and then travels to the Greek Islands. I've been to both locations. Tuscany his steeped in history and there's no better place to set up a missing 13th century treasure. I chose the Greek Islands because I wanted the scuba diving to be magical.

What is it about this genre that appeals to you so much?
I love action adventure because I'm always up for an adrenalin rush and I love romance because I'm a hopeless romantic, who fell in love with my very own hero at sixteen. I incorporate both the thrill of a ride and wonderful emotions of falling in love into my writing

What made you want to become an author?
Maths is my thing. So to improve my spelling, grammar and writing in general, I scribbled 'write a book' on my bucket list. In 2008 my husband bought me a course called The Year of the Novel. During that year I wrote Lost in Kakadu. It was a dreadful first draft. But I fell in love with writing and after another 20 or so drafts, and another 6 years, where I worked extremely hard to improve my writing skills, I finally decided Lost in Kakadu was ready. That book went on to be published in 2013 and became the Romantic Book of the Year in 2014. And I haven't stopped writing since.

How do you come up with character names?
I love both my leading characters names. Archer Mahoney is my hero. A customer of mine has Archer as his surname and that's where the idea came from. Rosalina Cullucci is my heroine's name. I wanted something unique, with an Italian feel to it, so I made this up.

Name one of your all-time favourite books?
Deception Point by Dan Brown.

Who, or what, inspires you?
I'm inspired by people who have overcome diversity or tragedy to go on and live incredible amazing lives. This is why I love reading memoirs and biographies as well as fiction.

Where is your favourite place to write?
I love writing by my pool in the afternoons. Especially with a glass of wine to get my creative brain flowing.

What is your favourite movie that was based on a book?
The Hunger Games by Suzanne Collins.

Name two of your favourite authors.
Matthew Reilly and Nora Roberts

Tell us a random fact about yourself.
My first pet was a cow named Moo. He died of old age.

Who would play you in the movie about your life?
Cate Blanchett. We have similar hair and she's a fantastic Aussie actress.

Tell us an interesting fact about where you live.
I live in Suburban Brisbane and my house back's onto virgin bush that is a Koala reserve. However I see kangaroos more often than koalas when I walk my dog out there.

What are your (writing) plans for the future?
I have 3 books out this year Treasured Secrets (April 2015) and Treasured Lies (October 2015) and I have my first crime novel, Double Take, coming out in print and digital copy (September 2015).

Tell us one thing that's on your bucket list.
I have 101 things on my bucket list. I've completed 38 of them. The next one I'm really looking forward to is seeing the Terracotta Warriors in China.

Favourite myth / fairytale?
I love the ugly duckling. I believe everyone has a beautiful swan within them.

Who/What did you want to be when you were a kid?
I always wanted to be an archeologist. Maybe that's why I love writing my Treasured series so much. There's nothing like solving a puzzle to find a priceless missing artefact.
Kendall Talbot is an award winning author, thrill seeker and a hopeless romantic. She has travelled extensively, some 36 countries, and counting and she's addicted to experiences that make her scream…white water rafting, scuba diving with sharks and hang gliding are just a few. Her stories reflect her sense of adventure and her long running love affair with her very own hero.
Kendall collects junky jewellery and expensive perfume, her favourite night out is with great friends and a fabulous bottle of wine or two, and she rarely watches TV. She lives in Brisbane with her hubby, her two grown boys and her little dog, Josie McLuvin.
Her debut novel Lost in Kakadu (Escape Publishing, 2013) has received a clutch of award nominations and most notably won the exclusive Romantic Book of the Year.
Drop into Kendall's website sometime: www.kendalltalbot.com.au
GIVEAWAY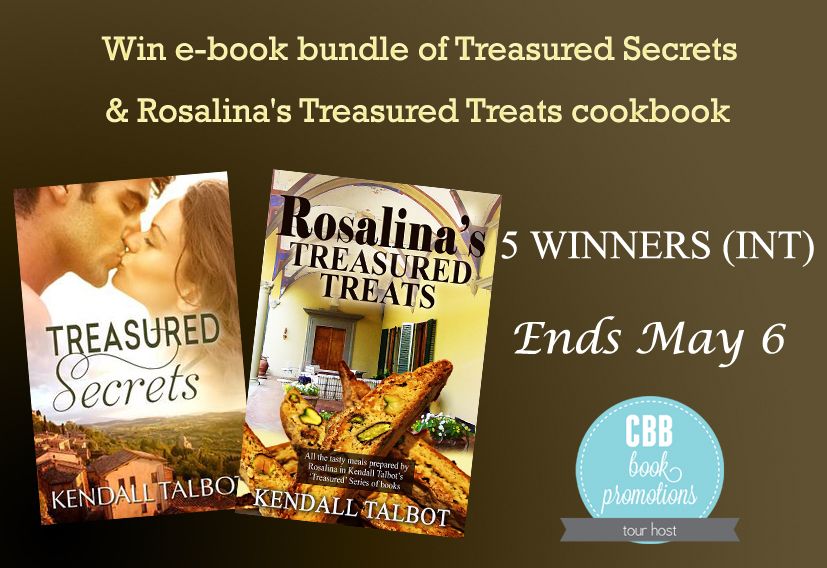 The author is giving away an ebook bundle of Treasured Secrets & Rosalina's Treasured Treats cookbook to 5 winners of the below Rafflecopter. Giveaway ends on May 6 and is open internationally.
a Rafflecopter giveaway